Certified Translation of Bank Statements
We provide certified translations of financial documents, banking documents such as bank statements, tax forms, paychecks and more. We can convert the amount listed in these statements to US Dollars.
EMAIL US
We are members of ATA and the logo of the Association is included in our translations.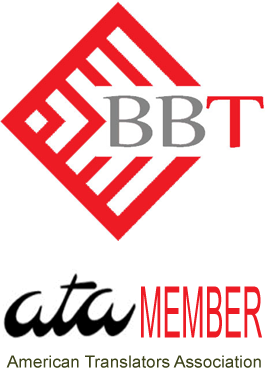 Financial Translation Services
PROFESSIONAL CERTIFIED TRANSLATIONS
Whether you need translation of a bank statement, a translation of diploma or a translation of personal document for the immigration, we can help. We have many years of experience working with foreign nationals who need to translate their documents.
THE BEST CHOICE
Why Hire Us?
We have been in the translation business for more than a decade. We work only with highly skilled experienced translators. We follow the standards of the ATA for certified translations in the USA and our translations are always accepted.
BBT Translation Services (and specifically Ruth) did such a great job translating a Hebrew document into English for me. The service was efficient and fast, and the translation was flawless. Thanks so much, BBT!
I am extremely satisfied with BBT Translation Services! I was in contact with Ruth who was very reactive and helpful. Got the job done quickly and effectively! And not expensive! I definitely recommend them !
Within less than 24hrs I got my document translated perfectly. Very recommended. Like
Quick and professional. Requested a translation from Hebrew to English, received a quote quickly and a full official translation within a few days.
BBT Translation Services - Our Promise
Our success in business comes from three simple things:
We provide accurate, professional and fast translation of any document. We work with highly skilled and experienced translators.
BBT Translation Services
We are proud of our customer service! If you have any question about your translation project, call us, we will be happy to answer any question you may have.
BBT Translation Services
We will never disclose the information that we learn within the scope of our work from your documents. We can sign an NDA agreement with you.
BBT Translation Services