Certified Translations of Academic Records
Professional translation word for word of academic records for higher education, schools, universities, colleges
Professional Certified Translations of Academic Records
Are you looking for a professional translation agency that can translate your academic records? Look no further. BBT Translation Services. A translation agency located in the USA. We specialize in providing certified translations of academic records such as diplomas, degrees, transcrips, grade sheets and more. Translation for higher education, universities, colleges, immigration, employment and more. Affordable pricing.
BBT Translation Services - We are a translation agency located in the USA
We provide professional, accurate and fast translation services in more than 77 language combination. Our translations are always accepted by any entity that requires certified translations in the USA.
REQUEST A FREE QUOTE
TOP QUALITY TRANSLATIONS
FIRST STEP
We provide accurate, professional and fast translation of any document. We work with highly skilled and experienced Spanish English translators.
ACCURACY
We provide an Affidavit of Accuracy signed and stamped.
EMAIL US
FRIENDLY SERVICE
SECOND STEP
We are proud of our customer service! If you have any question about your Spanish English translation project, call us, we will be happy to answer any question you may have.
TRANSPARENCY
You can call us to learn more about our certified Spanish English translations.
CALL US
CONFIDENTIALITY
THIRD STEP
We will never disclose the information that we learn within the scope of our work from your documents. We can sign an NDA agreement with you.
SIGNING AN NDA
We can sign a Non-Disclosure-Agreement with you and we guarantee that we will not disclose your information.
CONTACT US
Certified Translations - Spanish, Hebrew, Portuguese and more
We are one of the leading translation agencies in the field of translation. We translate academic records in more than 77 languages, such Hebrew, Spanish, Portuguese and more. We are comited to quality and professionalism.
Hire us to translate your academic records. Our translations are certified and can be notarized upon request. Our translations are always accepted by the government, courts, schools, universities and any other official entity.
CONTACT US TO LEARN MORE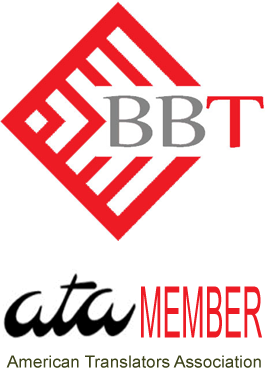 We are members of ATA American Translators Association and the logo of the association is inserted in our translations.
Our certified translations of academic records are always accepted.
Easy ordering process
Here at BBT, we know that you don't order a Spanish English translation every day, so we simplified the process for you. Follow the steps below:
1
Getting Started
In order to begin, we need to get an image of your document. You can scan or take a picture with your smartphone and email it to us.
2
Payment
Once we get the image of your document we will send you an email with the terms: Cost and turnaround time for completion. Payment is done in advance. We accept debit cards, credit cards or PayPal.
3
Translation
Once paid, we will translate your document. The translated document will be reviewed by a second translator to guarantee top quality.
4
Certification / Notarization
An Affidavit of Accuracy will be attached to the translation. This Affidavit bears the logo of the ATA - American Translators Association and our signature and stamp. Notary signature is available upon request.
5
Receive your translated document
Once completed, we will email you a PDF of your certified translation. If you need the originals, we can mail them out to you.
Great service! I needed a bank statement translated and converted into USD. BBT Translation helped me with it.
FREE QUOTE
---
BUSINESS HOURS
Mon - Fri / 9:00AM - 6:00PM EST