Financial Translation
We provide accurate, reliable and fast certified translations of many documents such as banking documents or payroll information such as paystubs, paychecks, bank statements, tax forms as form 106, 1301, balance sheets, audits, Tabu forms, financial statements, profit and loss statements, articles of incorporation, business ledgers, insurance policies and more in more than 77 languages such as Hebrew into English or Spanish into English.
EMAIL US
We are members of ATA and the logo of the Association is included in our translations.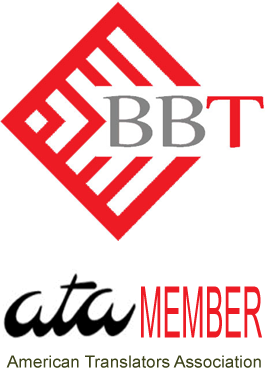 Financial Translation Services
PROFESSIONAL CERTIFIED TRANSLATIONS
Whether you need translation of a financial statement, a translation of diploma or a translation of personal document for the immigration, we can help. We have many years of experience working with foreign nationals who need to translate their documents.
This is a sample of our translation services
Certified and Notarized Translations
Spanish English certified translation of financial statements

Professional Spanish English translation of legal documents

Certified and Notarized Spanish English translations

Hebrew English translation of financial documents (Form 106, paystubs, etc.)

Certified Russian English translation for immigration (USCIS)

Certified French English translation of annual reports, payroll

Accurate translation of balance sheets, banking documentation

Professional translation of auditor reports
GET A FREE QUOTE
Very friendly and very professional. Used their service to translate my marriage certificate. Everything went very quick with a fair price.
Great customer service, personal attention and extremely quick service!
Within less than 24hrs I got my document translated perfectly. Very recommended. Like
Quick and professional. Requested a translation from Hebrew to English, received a quote quickly and a full official translation within a few days.
BBT Translation Services - Our Promise
Our success in business comes from three simple things:
We provide accurate, professional and fast translation of any document. We work with highly skilled and experienced translators.
BBT Translation Services
We are proud of our customer service! If you have any question about your translation project, call us, we will be happy to answer any question you may have.
BBT Translation Services
We will never disclose the information that we learn within the scope of our work from your documents. We can sign an NDA agreement with you.
BBT Translation Services