Professional Hebrew English Translations
We specialize in Hebrew English translation. We work with professional translators that can provide a certified translation of any document. We offer Hebrew English translation of personal documents such as a translation of a Marriage Certificate or academic records such as Teudat Bagrut, Diplomas, Test Results, Transcripts and more.
EMAIL US
We are members in good standing of ATA - American Translators Association and the logo of the association is in our letterhead.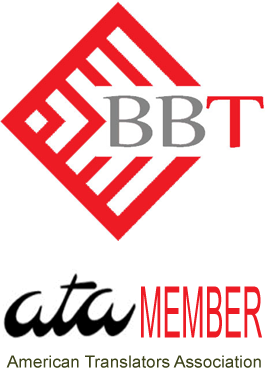 Hebrew English Translation Services
Types of Hebrew English Translation
We work with more than 350 translators, who are proficient in the Hebrew language. Our translations are always accepted by universities, immigration and any entity that requires a certified Hebrew English translation in the USA.
THE BEST CHOICE
Why Hire Us?
BBT Translation Services is the leading translation agency in the market. We have years of experience, and our translations are always accepted. All our translations are certified and come with an Affidavit of Accuracy.


350
Professional Translators
77
We translate more than 77 languages
407-286-5978
They were super responsive, payment was easy and job was completed in no time!
Ruth was Awesome! I was provided a fast quote, Prices were the lowest out of all the services I contacted! My translations and certificates were ready in 24Hrs. I will absolutely use their services again! Thank you!
Very efficient and prompt! Would definitely use their service again.
Great Service. Very Professional group. Highly recommended.
BBT Translation Services - Our Promise
Our success in business comes from three simple facts:
We provide accurate, professional and fast translation of any document. We work with highly skilled and experienced translators.
BBT Translation Services
We are proud of our customer service! If you have any question about your translation project, call us, we will be happy to answer any question you may have.
BBT Translation Services
We will never disclose the information that we learn within the scope of our work from your documents. We can sign an NDA agreement with you.
BBT Translation Services